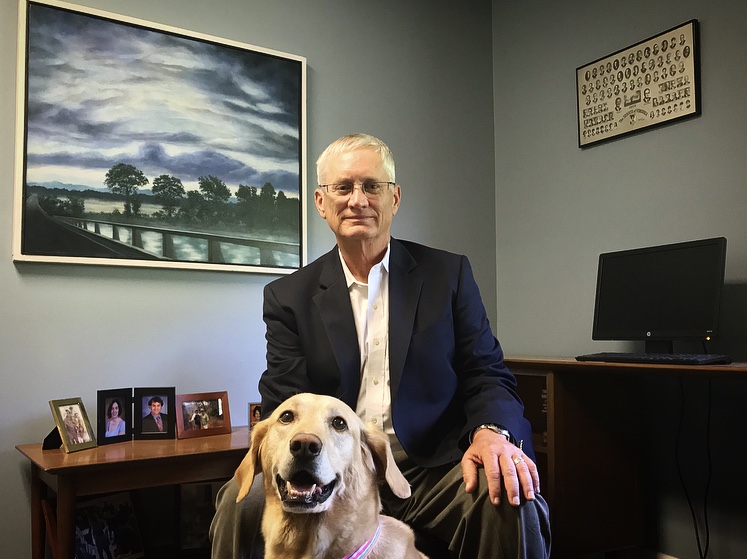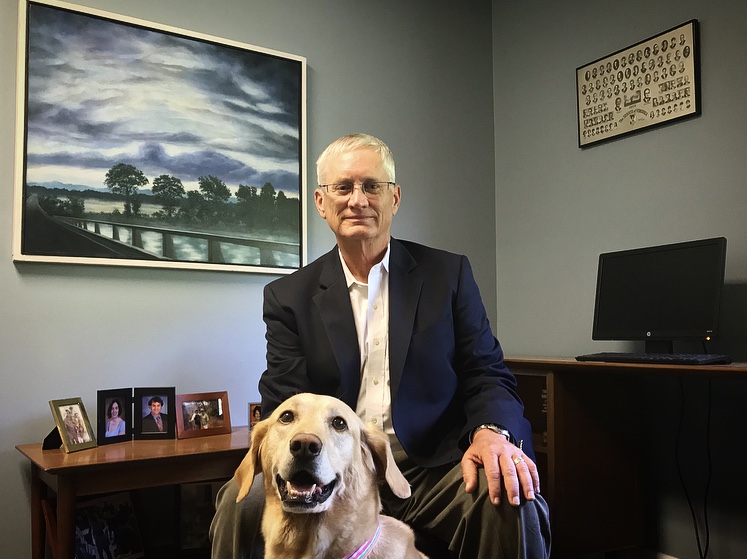 Henry (Hank) Howell III with Nike, our office manager.
University of Virginia, B.A., History, 1977
University of Virginia, J.D., 1982
Henry Howell ("Hank") is the founder and managing partner of The Eminent Domain Litigation Group. Hank has over 35 years of litigation experience in a wide array of practice areas, but has focused on eminent domain litigation for the past fifteen years. During that time, Hank has obtained several multi-million dollar condemnation verdicts and settlements and has frequently argued before state and federal appellate courts. Hank is recognized as an authority in eminent domain law both in the state of Virginia and nationally. Hank has also written extensively and is the co-author of the Eminent Domain Chapter in The Virginia Lawyer, the go-to legal resource for eminent domain law in Virginia.
If the name Henry Howell sounds familiar, that's because Hank's father, Henry Howell, Jr., was a populist Lieutenant Governor and gubernatorial candidate in the 1969, 1973, and 1977 elections. Hank's father's campaign slogan was "Keep the Big Boys Honest", and he applied it in his law practice by championing causes like one man, one vote and challenging the utility rates Virginia Electric and Power Company (now Dominion Energy) charged to Virginia consumers. Today, Hank carries on the family legacy, keeping the big boys of Dominion and the government honest by ensuring they treat property owners affected by public projects fairly.
When not in court fighting for property rights, Hank is a regular on the tennis courts. He enjoys spending time with his wife, Joyce, in a game of doubles or at the Oceanfront with their dog, Nike. He is currently working on his first book, exploring the stories that make Hampton Roads unique. Hank's
also been known to rough it in a yurt with friends and family on his family's 85 acres of mountain land in Floyd County. He is a devoted Grandpa and takes any chance he can to spend time with his kids and grandchild
.
All Virginia State Courts
Eastern District of Virginia
Western District of Virginia
4th Circuit Court of Appeals
Federal Court of Claims
Supreme Court Cases: Where We've Made the Law
Norfolk Airport Authority v. Nordwall, 246 Va. 391, 436 S.E.2d 436 (1993)
Chesapeake Builders, Inc. v. Lee, 254 Va. 294, 492 S.E.2d 141 (1997)
Cartwright v. Commonwealth Transp. Com'r of Virginia, 270 Va. 58, 613 S.E.2d 449 (2005)
Norfolk Redevelopment and Housing Authority v. C and C Real Estate, Inc., 272 Va. 2, 630 S.E.2d 505 (2006)
Commonwealth Transp. Com'r v. Target Corp., 274 Va. 341, 650 S.E.2d 92 (2007)
Byler v. Virginia Elec. and Power Co., 284 Va. 501, 731 S.E.2d 916 (2012)
Lynnhaven Dunes Condominium Association v. City of Virginia Beach, 284 Va. 661, 733 S.E.2d 911 (2012)
Pryer v. Norfolk Redevelopment and Housing Authority, Record No. 121642 (2013) (unpublished Virginia Supreme Court Order)
Bailey v. Spangler, 289 Va. 353, 771 S.E.2d 684 (2015)
Commissioner of Highways v. Osborn, Record No. 141586 (2015) (unpublished Virginia Supreme Court Order)
Palmer v. Atlantic Coast Pipeline, LLC, 293 Va. 573, 801 S.E.2d 414 (2017)
SGT Kang's Group, LLC v. Board of County Supervisors of Prince William County, Record No. 191423 (2020) (unpublished Virginia Supreme Court order)